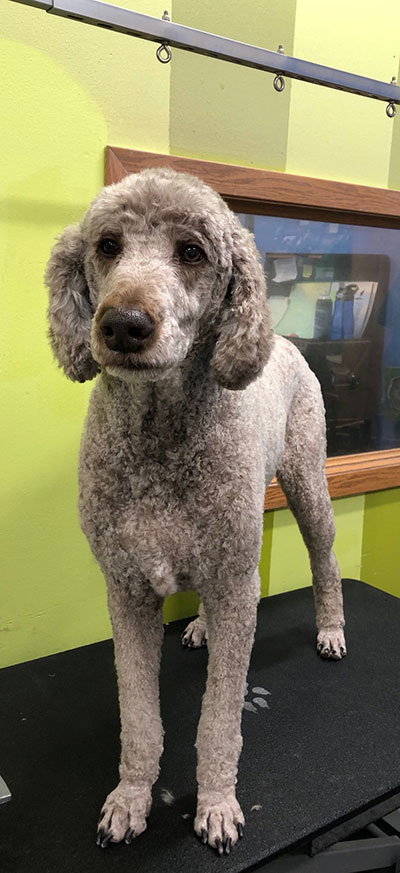 Please see our COVID-19 update for the latest information on our grooming services!
We offer appointments Monday through Friday each week with morning and afternoon slots available. Just need a nail trim? You got it! Need the whole works? Not a problem! Full grooming includes ear cleaning, nail trims, hand scissoring, clipper cut, bath, blow-dry, and scented spray.
While anyone can call themselves a "groomer" and anyone can take an online course to learn how to become a groomer (c'mon…you've all seen the ads in the back of Enquirer magazine!), we have hand-selected four groomers with skills that are worth their weight in gold!
While many think that grooming a dog just involves wielding clippers, there is much more skill involved in the perfect grooming job. Hand scissoring is a skill that most groomers do not learn, and we are proud to say that our groomers are exceptional artists when it comes to using scissors in blending, tapering, and shaping. We also take the time to educate you on how to maintain your dog with the right equipment in between grooming appointments. Another bonafide bonus is that if your dog has been through the daycare intake process and accepted into dog daycare, they can PLAY before or after their grooming appointment… this makes grooming WAY less stressful on your dog! A "half day" daycare charge will be applied to dogs who come to play for a full day while being groomed.
Price estimates:
Prices for grooming will VARY depending on the size & coat condition of your dog. All estimates are not including sales tax.
Nails – $14
Just a bath (no brushing/hand drying) – $10-$20
Clipper cuts start at $44
We do not brush teeth. Having a groomer brush your dog's teeth once every 4 months is a rip off. Ask your veterinarian about dental care, NOT your groomer. Unless your hairstylist does your teeth cleanings, then….maybe we will reconsider.